Dear Parents and Carers,
Following a nomination form Mr. Ellis (Lorna and Scott's father), we received 50 used Lenovo ThinkPad laptops from Network Rail.
These devices were wiped of Network Rail Data with no operating system, antivirus or settings applied. However, following a rebuild process the laptops now have Microsoft Windows – this will allow access to the internet and consequently Google Classroom.
I would like to offer these laptops to our families, in order to support home learning. If you think your family would benefit from one of the devices (for the duration your child/ren are pupils at Elvington Church of England Primary School), please email Mrs. Greening: office@elvingtonprimary.org.uk.
We will then arrange a convenient time for you to collect the laptop from school. It is my intention that a limited number of devices will be available from today; with the remainder after half term.
Network Rail would like a number of pictures and ideally quotes, when the laptops are collected. Please let Mrs. Greening know if this is something you would be prepared to take part in…
The device will come complete with a charging lead, as pictured below: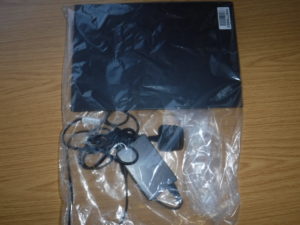 Yours sincerely,
Mr. Andrew Buttery