Decorating our Christmas Tree
Children throughout school enjoyed a range of different art and craft activities earlier in the week. This resulted in each child making a decoration which they placed on the tree.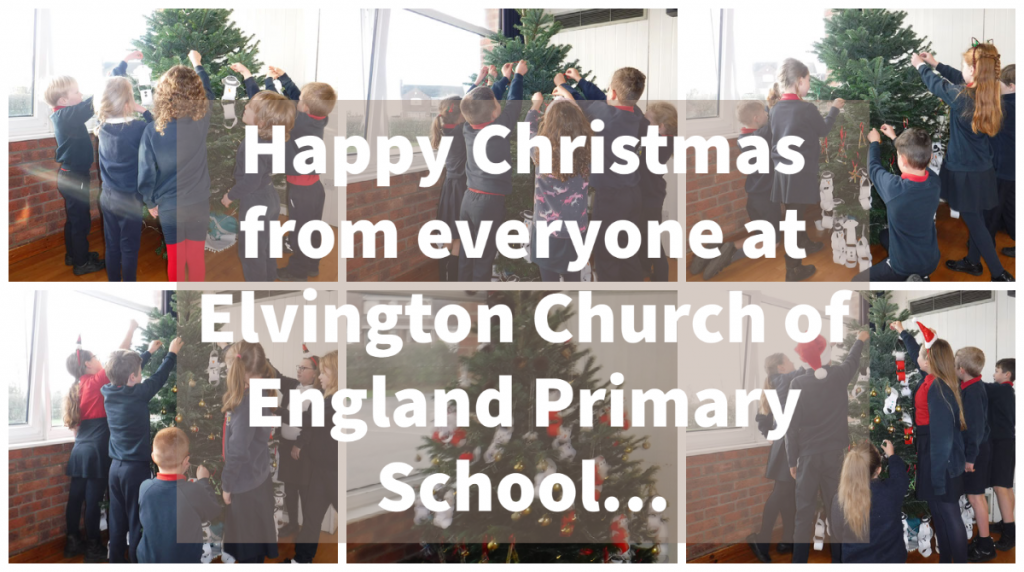 I am sure you will agree that the finished tree (kindly donated by Mr. Hutchinson – www.fieldsgardencentre.co.uk/online-shop/christmas/) looks wonderful…
Father Christmas & Rocking Rudolph
On Wednesday 8th December, Father Christmas will be arriving at school on his sleigh! All classes, and Elvington Under Fives, will have the chance to wave at Father Christmas and even join him in singing a carol or two!
The special guest has been organised by the Derwent Lions. A huge thank you to them for making Christmas at Elvington that extra bit special. The visit is free, although it would be much appreciated if you could make a donation, however big or small, to the Derwent Lion Just Giving Page: www.justgiving.com/derwentlions.
Riding Lights Theatre Company – On Thursday 9th December, the children will enjoy a performance of Fizzy Finn Finds His Feet (https://ridinglights.org/fizzy-finn/). Precautions are in place to ensure that we will enjoy the Christmas performances, in the knowledge that Riding Lights will be delivering the activity safely for all involved.
Christmas Lunch – On Tuesday 14th December our kitchen team will be cooking a Christmas lunch for the children to enjoy. This will also be Christmas Jumper Day and children are invited to wear a Christmas jumper. Children are invited to wear a Christmas jumper (or a bright coloured/sparkly top). Apart from the aforementioned, children should wear normal school uniform. There will be no donations collected within school, however, those of you wishing to make a donation could visit www.christmasjumperday.org.
Christmas Parties – On Wednesday 15th December, the children are invited to come to school wearing their party clothes. They will have party games and other fun activities.
Holy Trinity Church – Our proposed date to visit Holy Trinity Church is Friday 17th December. Unfortunately, given the mitigations we have in place, it is highly unlikely that parents/carers will be invited to attend this event.
Christmas Cards – With COVID-19 mitigations in place, we will once again need to distribute Christmas Cards a little differently this year. I would like to request that from Monday 29th November 2021, children bring their Christmas Cards into school on the Monday and Tuesday of that week e.g. Monday 29th November, Tuesday 30th November, Monday 6th and Tuesday 7th December etc. The last day to bring cards into school will be Tuesday 14th December; cards will then be distributed weekly on a Friday. Could you please ensure that envelopes clearly show the recipient's full name and class; this will help us to deliver cards efficiently.
The Big Little Nativity – As you will now be aware, unfortunately it will not be possible to invite parents/carers to watch a live performance of The Big Little Nativity (COVID-19 mitigations). However, to ensure you and your relatives do not miss out on this festive treat, the performance will be recorded.
Christmas Carols – You will have received a letter, via email, detailing our plans to record individual class carols this Christmas. Look out for an email containing the unlisted YouTube link…
Gifts for Staff – The generosity of parents and carers at this time of year is always appreciated, although in no way expected. Any gifts sent into school will need to be quarantined. Therefore, we invite parents/carers who would like to send a gift into school to do so on either Monday 13th or Tuesday 14th December.