Dear Parents and Carers,
In light of the continued rise in the rate of COVID-19 infections and the resulting lock-down in England, we are asking parents and carers to wear a face covering when dropping children off and then collecting them at the end of the day. This request will be from Monday 9th November 2020, until further notice…
Although we have staggered starts and finish times and a one-way system, it can still be busy outside of school. We hope that face coverings will further help to keep everyone safe during this challenging period. Of course, if there are valid reasons why face coverings cannot be worn, these will be respected.
Please ensure that you continue to adhere strictly to the time slots allocated for drop off and collection times. Older siblings can continue to be dropped off at an earlier time, as long as this fits within the younger child's time slot. These older children will then wait in our covered outdoor waiting area, until their bubble enters the building. This is in order to ensure that bubbles do not mix during these periods.
Please leave the area as quickly as possible when you have dropped off or picked up your child/ren. As a continued safety measure and to play our part in helping to reduce transmission of the virus, I would like to remind you that in the event of queueing, parents and carers should leave a clear two metres distance. The aforementioned is supported by the semi-permanent markings and one way system on the pavement of our Elvington Lane entrance.
We support preventative measures to suppress the spread of the virus and ask members of our school community to continue to practise good hand hygiene, wear face coverings and keep in excess of two meters from other people – the Government's 'hands, face, space' message.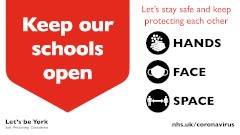 Children should continue not to wear a face covering when entering/exiting the school site. Please ensure that your child/ren do not bring face coverings into school.
Children should be collected by their own parents/carers, unless this is part of a child care/support bubble arrangement, or the child has permission to walk home.
I am aware this continues to be a very challenging time for many people and we do sympathise with parents and carers forced to change their plans to look after children who are obliged to self-isolate, often with very little notice. If your child having to self-isolate prevents you from working, there is a Test and Trace Support Payment scheme in place for which you may be eligible. Details are available by following this link: www.gov.uk/government/publications/test-and-trace-support-payment-scheme-claiming-financial-support/claiming-financial-support-under-the-test-and-trace-support-payment-scheme.
Yours sincerely,
Mr. Andrew Buttery